July 1, 2016 1:24 pm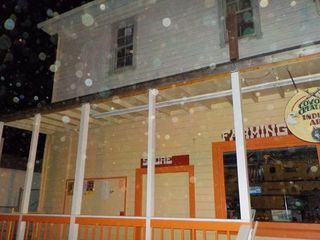 Great British Ghosts PRESENTS:
https://vimeo.com/157784851
Theme Song for this Article – Lenny Kravitz – Fly Away
https://www.youtube.com/watch?v=EvuL5jyCHOw
Haunted Farmington Photo Slide
https://www.youtube.com/watch?v=pCaQAUv88Yg&feature=youtu.be
Haunted Southern Pacific Railroad Depot
https://www.youtube.com/watch?v=1ehnuhot85E&feature=youtu.be
Deanna Plays Piano at Davis Railroad Depot:
https://www.youtube.com/watch?v=Si1r_Biv9O8&feature=youtu.be&list=PLLKmWyZxoRyZZur_–A9FXJ__8At57ixQ
Cowboy the Dog Singing Home on the Range
https://www.youtube.com/watch?v=oipp5TrFblM&feature=youtu.be
Special Note: Cowboy is Kathy & John Stinson's dog.
Farmington has a school, firehouse, bar, Circle K, Shell gas station, general store, and post office. There is also an almond orchard that is in the east part of the town. As you go farther east, you will reach the Sierra Nevada mountains. Stockton East Creek flows along the southern border of Farmington, paralleling Highway 4 for a short distance. The creek and many other places nearby were used as locations in the 1958 film The Big Country, as for the scenes for the movie, Dirty Mary, Crazy Larry (1974).
A resident of Farmington proclaims on a popular ghost website the following: "I have many occurrences in my home. I bought it 2 years ago and I have heard a baby laughing. A woman talking. Ceiling fans being turned on. A green face ghost looking back at me. GHOST IDENTIFIED: GREEN FACE.
FAMILY VISIT BEFORE THE IMPROMPTU INVESTIGATION
On this day (7/2/2016 Saturday), I thought I would kill two birds with one stone. My beautiful wife Deanna Jaxine Stinson and I did an impromptu investigation of Farmington at midnight. But, earlier on in the day, I met up with my father-in-law John Stinson for the first time and met Deanna's step-mother Kathy Stinson. I really enjoyed meeting my new in-laws. What I learned this day was that John Stinson has Apache, Swedish and Mexican blood running through his veins. Kathy Stinson is Italian. John discussed Deanna's half sister Patty Cady and also discussed Deanna's 6 other siblings. There was plenty of family talk to discuss. John and Kathy took us out to dinner and we all piled up in John's Ram truck and went to The Peppery. Deanna had the house salad and apple juice. I had The Peppery cheeseburger, fries and Pepsi. Later Deanna and I shared a blueberry cheese cake. John loves collecting old items, like old soda bottles, various rocks, Americana memorabilia. I learned that Kathy Stinson was born in Miami, Florida. Kathy is a medical doctor and her sister is a dentist. Kathy has a brother-in-law who is a peace officer and 2 relatives that work with an airline and fly all over the world. Kathy has been to Italy and John is a Vietnam vet and was with the 82nd Airborne. John was also stationed in Korea on the DMZ as an 11 Bravo (Infantry). We left John and Kathy's home late and we arrived at midnight in Farmington to conduct our impromptu investigation. Special Note: We ate at The Peppery – 13494 Mono Way, Sonora. Thank you John and Kathy for the $25.00 Starbucks gift card and the $15.00 Subway gift card. When I got home tonight, Hi-Pee and Hannah were ready for their night walk and I walked them over to Merwin F. Rose Park. Hi-Pee and Hannah will soon meet Kathy and John's dog Cowboy, the next time we come and visit. See Cowboy singing 'Home on the Range' at the video link at the top of this article.
Okay, enough family talk, let's talk about the ghosts of Farmington, California.
SIERRA CONSERVATION CENTER – NEAR FARMINGTON
The Sierra Conservation Center, 5100 Obyymes Ferry Road – Jamestown, CA is near Farmington and there has been reports of haunting activity in this prison. As a paranormal investigator, I have learned that paranormal activity is imminent when you are investigating hospitals, jails, asylums and prisons. The reason being is there is always death found in these institutions making these places haunted. In jails and prisons there is always murders, suicides, accidents. Sierra Conservation Center was open in 1965 and houses 4,206 inmates. There has even been a severe riot at this prison. As of 2010, there has only been one suicide. The prison is right next to the roadway. A motorist claims to have seen a Hispanic man in a blue outfit walk along side the road. He pulled his car over, several yards away from the man and was about to call into 911 that there was an escaped prisoner when all of a sudden the Hispanic man in the blue outfit vanished in front of his very eyes. Could it be the suicide victim from this prison or could it be someone else that has died at this prison? GHOST IDENTIFIED: SCC BLUE MAN.

HAUNTINGS AT FARMINGTON CEMETERIES:
http://www.ghosttheory.com/2009/07/29/paranormal-investigation-planned-in-farmington-cemeteries
SPECIAL NOTE: Ghost hunting groups from the bay area make claim that the Farmington cemetery is haunted. The Raven Night Owls, a now defunct ghost hunting group from Martinez, CA claim that they saw a skinny skeletal man walking in the cemetery. The group says once it was there, then it was gone. Above is an article about the Farmington cemetery that goes into plenty of detail. GHOST IDENTIFIED: FARMINGTON CEMETERY SKINNY MAN.
HARROLD HOUSE IN FARMINGTON, CA
1863 Italianate – The Harrold House in Farmington, California. Lyla Thomas from Manteca says that she visited the Harrold House in Farmington and saw 3 little girls in pink dresses sitting on the front wall of the Harrold House. They jumped off the wall and ran into the grassy area and were giggling. They ran back to the Harrold House and walked through the front wall. When Lyla saw this, she knew she witnessed something paranormal. You can see more of the Harrold House at this link: http://www.oldhouses.com/2452 GHOSTS IDENTIFIED: 3 GIGGLING GIRLS OF HARROLD HOUSE.
HAUNTINGS IN THE OLD TOWN OF FARMINGTON:
A brunette woman wearing a yellow and brown dress has been seen floating on the veranda of the Old General Store/Odd Fellows Building.
Deanna Jaxine Stinson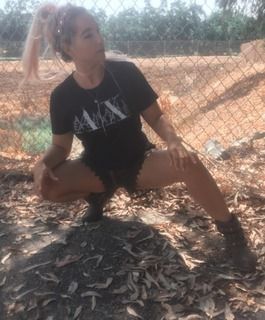 In Farmington, a paranormal group claims to have gotten activity at the derelict house, but they do not indicate what type of activity. The bar next to the Odd Fellows Building is supposed to be haunted. One patron claims that he saw a beer bottle slide across the bar and then stop suddenly. Another patron claims that he went to the restroom and felt something pulled his hair. Lagorio's Grill and Bar and the Odd Fellows Lodge have been around since the 1800s. Some residents claim that hangings took place at the Odd Fellows Building. One ghost hunting group claims that captured many EVPs and K2 hits at the Odd Fellows Building. There was reported sightings of a little boy peering out of one of the front windows. GHOSTS IDENTIFIED: LAGORIO'S GRILL & BAR HAIR PULLER; THE VERANDA FLOATING WOMAN; BOY IN WINDOW.
SOUTHERN PACIFIC RAILROAD DEPOT – DAVIS, CA
7/3/2016: Deanna and I, made a stop at Southern Pacific Railroad Depot – Davis, CA. This railroad depot has been around since the 1800s. Amtrak has taken over the depot and you can now hop on a train and head over to Los Angeles, Seattle or even Chicago. Davis residents claim that there are two ghosts that haunt this depot. One of the ghosts looks like a train hopping hobo. During the time of dusk, the ghostly hobo is carrying a large cloth that contains something. The large cloth is tied to a long stick. Witnesses have seen the hobo disappear from human form and become an orb. The orb will just whisk away. Another ghost is one that looks like a train conductor, he is wearing a uniform and sometimes will wave. On one night he looked like he was blowing a whistle, but no sound was heard. This ghost is seen around 1am. Darren Cartley – former Davis resident says that he saw the train conductor ghost walk through a tree. GHOSTS IDENTIFIED: DAVIS TRAIN CONDUCTOR AND DAVIS RAILROAD HOBO.

Paul Dale Roberts, HPI Esoteric Detective
aka The Demon Warrior
Halo Paranormal Investigations (HPI International)